SRIMAD-BHAGAVATAM LETURES
Tamal Krishna Goswami Tape Ministry
---
Tape Series
The Bhagavatamrita Series
Volume One: A Lesson in Detachment - The History of King Citraketu
Canto 6 Chapter 16
A new feature: The Bhagavatamrita series, containing explorations of especially nectarean parts from the Srimad-Bhagavatam. This first volume describes contains classes recorded in Houston during the Summer of 1994 on selections from the history of King Citraketu, a great devotee of the Supreme Lord. He strongly desired to have a son but he could not have one. Finally he begot one son but then lost him again. At first he lamented greatly but then he received transcendental knowledge, began to meditate and attained the direct darshan of the Supreme Personality of Godhead, which meant the end of all his distress in this world of loss and gain. This series touches on this story but focuses on the beautiful prayers offered by the King to Lord Sankarsana, which are overflowing with transcendental knowledge. In his purports His Holiness elaborates on how to perfect one's surrender to the spiritual master, how to deepen one's chanting, how to better appreciate the fortune of having attained the association of devotees etc. Simultaneously powerful and sweet. Some titles: "Take Shelter of Eternal Relationships", "Fast from Maya, Feast with Krishna", "Devotees Have No Double Standard", "How to Please Krishna and Receive His Mercy ", "Stay on Board of the Ocean Liner".
1994 - 6 TAPES
Volume Two: Happiness is a Science - Aditi's Vow
Canto 8 Chapter 16
This series of lectures given in Dallas during Kartika 1993, covers an interesting section of the Eighth Canto of Srimad-Bhagavatam. After Bali Maharaja, king of the demons, had conquered the heavenly planets and driven out the demigods, Aditi, the mother of the demigods, naturally felt very morose. Her husband, Prajapati Kasyapa, places a series of detailed inquiries before her showing with scientific precision what the cause of her (and our!) despondency could be. She then requests him to inform her how her sons could reoccupy their heavenly positions. Understanding his wife's attachment for her sons to be ultimately illusory, as her guru he wants to purify her motivation and at the same time satisfy her request. He therefore instructs Aditi to worship Lord Vasudeva since Krishna is the only one who can fulfill all our desires. In the course of these classes many important and practical subject matters are discussed, such as the way to receive and treat guests, also uninvited ones. Although especially applicable to householders, His Holiness stresses the necessity for all devotees to act morally because it puts one in the mood for Krishna bhakti. Aditi's plight - motivated devotional service- is all of ours. A careful listener can amass great benefit from these instructions.
1993 - 5 TAPES
VOL. 1 & 2 AVAILABLE SEPARATELY OR TOGETHER IN ONE ALBUM
Volume Three: Instructions for Civilized Human Beings
Canto 7 Chapter 15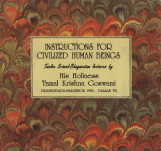 Twelve Srimad-Bhagavatam lectures on the Chapter in the Seventh Canto, bearing the same intriguing name, in which Narada Muni instructs Maharaja Yudhisthira for our benefit. The time: Dallas, during the Prabhupada Marathon of 1992. Of course, this makes for many inspirational comments about preaching and book distribution. But also about how to remain healthy, the importance of strict sadhana as the basis for receiving mercy, developing loving relationships among devotees etc. Delightful and practical!
1992 - 10 TAPES with VINYL ALBUM

Volume Four: The Mysterious Pastimes of Mohini Murti
Canto 8 Chapters 9 & 12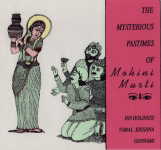 A rarely discussed, but very interesting avatar of the Supreme Personality of Godhead in His form of the most attractive woman, Mohini Murti. These classes were delivered in Dallas, Autumn 1993, and contain a wide variety of topics, ranging from 'How To Become Steady In Devotional Life' to 'Facing Fall Down', and 'Overcoming Sex Desire by the Power of Bhakti.' Drink in the beautiful 'Meeting Krishna In Separation" and laugh along with 'Lazy Men Get Burnt'. Controversial subjects like 'Never Trust a Woman?' are not shunned, but graciously dealt with to every one's satisfaction. Recommended for a devotee audience. Still not curious?
1993 - 9 TAPES with VINYL ALBUM

Volume Five: The Song of Lord Siva
Canto 4 Chapter 24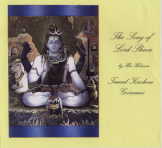 These tapes contain valuable comments on the beautiful prayers which Lord Shiva taught the Pracetas. These lectures are mostly home programs given in the houses of various devotees and members of the Indian community in the Houston area. Topics discussed: The position of Lord Shiva compared to Lord Brahma and Lord Vishnu, demigod worship, the creation, impersonalism etc. etc. All in great detail, with conclusive evidences and good humor too.
1992 10 TAPES with VINYL ALBUM

Volume Six: The Power of Chanting the Holy Name - The History of Ajamila
Canto 6 Chapters 2&3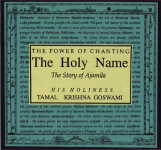 Encouraging discourses on the timeless history of Ajamila, the fallen brahmana who was saved by the mercy of the holy name. Each class focuses on a different aspect of the science of chanting and preaching the holy names of the Lord. By his strong personal example of determined sadhana and enthusiastic preaching His Holiness, overflowing with realizations, succeeds in enlightening and inspiring his audience to take the next step in spiritual life. Recorded in Houston, Texas during the Autumn months of 1993. Some titles: 'Uprooting the Desire to Sin', 'Become Attached to Krishna's Holy Name', 'Struggle to Become a Pure Devotee', 'Transforming Causeless Unwillingness', 'The Best Service: Remind Your Guru of Krishna', 'Lord Caitanya's Words Will Never Fail (SKP)'.
1993 - 10 TAPES with VINYL ALBUM

Volume Seven: Prophecies for the Iron Age
Canto 12 Chapter 2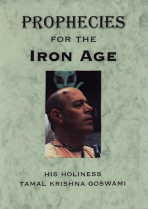 Sukadeva Goswami speaks out on the vices of Kali-yuga. Although His Holiness delivered these penetrating lectures on the Twelfth Canto of the Srimad-Bhagavatam in Dallas several years ago, each day their message becomes more relevant to the sincere listener. This series offers great examples to use in your preaching, and a sobering vision into the future which can bring about increased determination in your personal spiritual life.
1985 - 12 TAPES with VINYL ALBUM


A Taste of the Ripened Fruit - SRIMAD-BHAGAVATAM LECTURES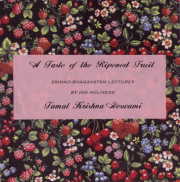 The Srimad-Bhagavatam is known as the ripened fruit on the tree of the Vedic literatures because it contains the essence of transcendental knowledge presented in a very relishable fashion. Srila Prabhupada has also said that the Srimad-Bhagavatam class which is conducted in our temples every morning is the most important part of the morning program. This series contains various Srimad-Bhagavatam lectures which were recorded in Dallas. Some titles: "Be Prepared for Detachment", "Our Only Worry: To Love Krishna", "Pull Up Your Anchor", "Everyone Should Give Class". Relish these ripened fruits of the Tamal tree!
1994-95 - 10 TAPES with VINYL ALBUM

F R O N T I E R S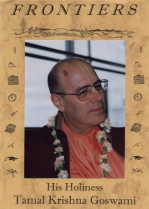 Always looking for new challenges and ways to expand his service to Srila Prabhupada and the previous acaryas, about three years ago Tamal Krishna Goswami decided to enroll at South Methodist University, Texas, to study Sanskrit and religion. He felt this would enable him to reach the academic community and impress upon them the real imports of Krishna consciousness. Quite a bold move to make for a person of his caliber and spiritual background, but as time has shown, a very successful one. Straight A's, honorary awards, lots of new friends and contacts, two new books, and recently, a Graduation With Honors(!) are some of the visible results of His Holiness's concentrated study efforts. FRONTIERS are the very first lectures he gave to the devotees after embarking on this great adventure.
One meaning of FRONTIERS is "the land that forms the furthest extent of a country's settled or inhabited region". The academic world is a largely untrodden region for devotees but His Holiness, with a true pioneering spirit, is rapidly furthering the borders of his devotional career in his new role as a student at SMU. This explains the choice of title for this fascinating series.
Despite his busy schedule His Holiness always made time to give the Saturday morning lecture to the Dallas temple devotees who came from far and wide not to miss it. And now you can join in as well! Listen to......
Although following the format of regular Bhagavatam lectures, these classes are full of interesting facts and comparisons which clearly evolve from His Holiness's intensive studies.
He speaks humorously on a variety of topics like the absurd ways in which people try to enjoy nowadays or how they profess to honor their heroes.
He stresses the need to give up sense gratification and surrender to Krishna if we want real, lasting happiness. Thanks to His Holiness's fresh realisations these basic but essential Vedic teachings come across more powerful and convincing than ever before.
His love for the Dallas devotees whom he has known for many years and his concern for their spiritual lives is vividly shown in his words and moods of speech.
Apart from sharing philosophical knowledge, His Holiness adds many personal notes regarding the way he conducts his daily life. Besides endearing to hear, these are also helpful to us. How he remains fixed in his purpose despite mixing intimately with materialistic persons every day, his study habits, dreams he has, even the type of alarm clock he uses! Listen to FRONTIERS and you will find out all these things and many more.
Some titles: 'Outgrowing the Cowboy Culture,' 'Without Heroes There Is No Religion', 'Perceiving Krishna's Hand in Suffering', 'Calvin, Macchiavelli and KC', 'Spare the Rod, Spoil the Child', 'Artificial Intelligence Versus the Human Brain', 'Protect Yourself Through Discipline'.
1996 - 16 TAPES with VINYL ALBUM