Tamal Krishna Goswami Tape Ministry
---
The Joy of Hearing
Lecture MP3 Complete Set
This complete MP3 set contains all the lectures that have been processed to date. It contains over 3500 files for a total size of 45GB, for 3300 hours of listening time. Majority of the recordings has never been released on tape. All the lectures are available for FREE download on Listen Online page. (As we are still slowly collecting and processing more lectures, we will add them online and to this set.)
If you would like to purchase the MP3 files, I can load the files onto any USB thumbdrive or flash memory card that has 64GB or higher capacity, and mail to you. I will let you find the best deal on digital storage for yourself. You can arrange for the USB thumbdrive or flash memory card in one of the following ways.
You can mail one to me.
You can order one online and have it mailed to me.
You can point me to a sale on any major retailer website. I will order it, and you will add the price+shipping to the total price you pay me.
Please make sure that it has minimum 64GB capacity. Please don't send portable harddrives, and they incur high shipping cost.

Price: $50, NOT including the digital storage. First-Class shipping is included.
Other items
CDs: We no longer sell these, but you can listen to them or download the image files on CD / DVD page.
God, Demigods and Incarnations DVD: $8.
Books and tapes on http://www.goswami.com . Please email me and let me know your address and what you want to order. I will let you know how much you need to pay including shipping.
Title
Price
The Drama of Lord Jagannatha (album)
USD 27.00
Listen Online
The Drama of Lord Jagannatha (softcover)
USD 3.50
The Final Pastimes of Srila Prabhupada (hardcover)
USD 7.95
A Hare Krishna at SMU (hardcover)
USD 19.95
Living Theology of Krishna Bhakti (hardcover)
USD 24.95
Reason and Belief (softcover)
USD 10.95
Servant of the Servant (softcover)
USD 19.95
Song of God (album)
USD 35.00
Listen Online
TKG Memories Volume One (softcover)
USD 12.00
TKG Memories Volume Two (softcover)
USD 12.00
TKG Memories Volume Three (softcover)
USD 12.00
TKG's Diary (hardcover)
USD 16.95
Yoga for the 21st Century (softcover)
USD 4.50
Contact Info
Please contact Krsna Kirtana dasa at: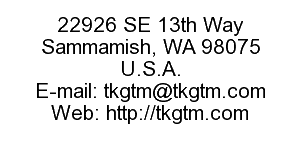 Payment Methods (all payments in US Dollars) :

Cash

Check drawn on a US bank, US Money Order or International Money Order, payable to , and mailed to the address above.
Please do NOT make it to TKGTM or ISKCON.

Through :

U.S. payment funded by Credit Card or Debit Card, or International payment: you need to send the payment to .PayPal charges us a transaction fee of 2.9% plus $0.30 to receive payment at this address, plus another 1.5% for international payments. So you need to increase your payment a little to cover the transaction fee. Just enter the payment amount below, and check if you are a USA or international customer. The increased payment amount will be calculated for you. Then click pay and fill in all the information. PayPal will create an account for you if you don't already have one.

U.S. payment funded by Bank Account or Paypal Balance: please send the payment to as "friends and family" from your US-based PayPal account.
If you do not already have a PayPal account, you can sign up by clicking on .

Western Union Money Transfer: please send payment to at the above address. Please email me the amount, the control number, your name and address on the transfer request.