Tamal Krishna Goswami Tape Ministry
---
Tape Series
ABOUT BOOK DISTRIBUTION
The Brihat-mrdanga Series - Seven Lectures on Book Distribution
Nectar from the archives! Timeless - priceless. Spicy book distribution lectures which are too good to be forgotten. If you think you're too busy to preach, but inside you're hankering for the bliss of sankirtana..... but also if you're looking for a secret weapon for the upcoming Marathon..... these tapes are for you! Guaranteed to give instant inspiration for preaching.
1978/79 - 7 TAPES
A Pilgrimage to Zurich - The Capital of Book Distribution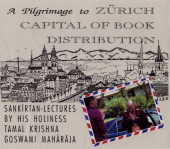 Collected lectures (1990-1993) given in Zurich, His Holiness's all-time favourite place of pilgrimage. Full of preaching zeal and intimate Radha-Krishna-katha. A special opportunity to get to know the heart of your spiritual master. Haribol!!
1990/93 - 10 TAPES with VINYL ALBUM

On Mahaprabhu's Order
Zurich 1994. Two visits to Sankirtana-pura, during which His Holiness delights the Swiss book distributors with his vision on how ISKCON will save the world. But also many instructions on how to give up envy amongst devotees, sweet Krishna-lila stories and a very interesting lecture on the first verse of the Siksastaka-prayers. On the cover: The most powerful Gaura-Nitai Deities in the Movement!
1994 - 4 TAPES with VINYL ALBUM

Sankirtan Spirit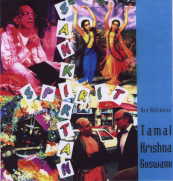 Here are 10 great tapes of collected SB classes recorded during 1995 - shortly before Srila Gurudeva took up his university studies- in Dallas, Houston, LA and Florida. This series is not meant for sankirtana devotees in particular, although naturally they will especially relish these lectures. Rather, the titles will reveal that Srila Gurudeva is addressing all of us who feel identified with and sheltered by Srila Prabhupada's International Society for Krishna Consciousness. All throughout these classes rings a passionate yet compassionate plea to remind us that no matter which difficulties we may have to face in life, - either individually, as struggling grhastha's or collectively, as we try to keep this movement together - according to our Founder-acarya His Divine Grace A.C. Bhaktivedanta Swami Prabbhupada, preaching is still the essence of Lord Caitanya's message and EVERYONE should take up some type of it in some way. In other words, these tapes can provide inspiration for us to get up and do something which will give a lot of pleasure to Srila Prabhupada - and enliven our selves as well, in a way nothing else will. Remember that 'translucent feeling' you'd have after a good harinama or day of preaching?! Well, you can have it again!
SOME TITLES: "Revolutionaries Against Maya", "Our Austerity is to Preach", "If You Save the World You Save Yourself", "Srila Prabhupada's Preaching Mood", "Dispense the Greatest Gift", "Sincere Faith is All You Need to Preach", "Rise Above Your Attachments By Preaching".
1995 - 10 TAPES with VINYL ALBUM

....And two special single tapes:
SANKIRTAN-CLASSIC: THE MOOD OF A PREACHER
Dallas Marathon Festival January 1995
Very ecstatic sankirtana-lecture on the famous part of the CC where Lord Caitanya endearingly presents Himself as a transcendental gardener, asking for our assistance to help Him distribute the many fruits of love of God. Overflowing with powerful realizations on the nature of the sankirtana-movement, how to arm yourself in the war against Maya, practical advice on how to approach people and how not to.... the nectar just keeps on flowing! Very tasty. Hear it and be there!
1995 - 1 TAPE
PLEASE DISTRIBUTE BOOKS!
Assembled quotes on preaching and book distribution as selected from various lectures around the world. Smashes all doubts and focuses the mind on what Srila Prabhupada called "our most important business" - saving the fallen souls through book distribution!!
1995 & BEFORE - 1 TAPE