Tamal Krishna Goswami Tape Ministry
---
Tape Series
PASTIMES AND FESTIVALS
Lord Krishna's Pastimes
Govardhana and Varshana Parikrama
Together with His Holiness Giriraja Maharaja, Pundarika Prabhu and a host of eager devotees, His Holiness visits these two holiest of places in the Vraja Mandala area. Complete with sounds and pastimes, these tapes will miraculously take the listener along. Jaya Radhe!
1991 - 2 TAPES
Damodarastaka
Originally released as part of the Kartika Series, these wonderful evening lectures were delivered in Mayapura Dhama during the month of Kartika 1992. These transcendental classes breath the atmosphere of the holy Dhama and cover all the verses of the beautiful poem by Satyavrata Muni which devotees daily sing to Lord Damodara in this auspicious month. In his explanations His Holiness follows the little known commentaries of Srila Sanatana Goswami and extracts a lot of nectar from each verse to the delight of the devotees present. Bonus: Parikrama tape with intimate visits to various neighbouring temples.
1992 - 5 TAPES with VINYL ALBUM
The Nectarean Glories of Vrindavana - V.I.H.E. course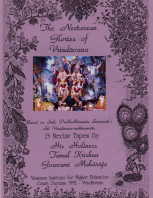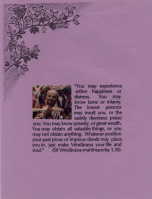 Shower your bhakti-lata with nectar by hearing of the wonderful pastimes of Sri-Sri Radha Krishna and Their associates. Learn how a liberated soul sees Vrindavana. Based upon Srila Prabhodananda Saraswati's Vrindavana-mahimamrita, these discourses will make you forget - at least temporarily! - that you are living in the material world.
1992 - 13 TAPES with VINYL ALBUM

HOW THE UNBORN TAKES BIRTH
Beautiful Srimad-Bhagavatam Tenth Canto lectures around the theme of Lord Sri Krishna's Appearance in this material world. Filled with commentaries of the acaryas. Advanced level, best suitable for devotees. Titles: 'Understanding Vrindavana-Krishna', 'First Become Steady, Then You Can Love Krishna', 'The Concealed Opulence of Vrindavana'. So if you want to set the mood for Janmastami.....
1993 - 3 TAPES
GOVINDA-LILA - Lord Krishna's Vrindavana Pastimes
Four sweetly beautiful lectures based on early verses of the Srimad-Bhagavatam in which Sukadeva Goswami remembers Krishna's Vrindavana-lila in brief. His Holiness widely expands the meaning and draws everyone in. Recorded in Hong Kong, January 1995, but without Chinese translations. Titles: 'Krishna chastises Kaliya', 'Mother Yasoda tries to bind Krishna', 'The Lifting of Govardhana Hill', 'The Glories of Nanda Maharaja'. This series is compiled and issued by His Holiness's personal desire. Don't miss out.
1995 - 4 TAPES with VINYL ALBUM

Lord Caitanya's Pastimes
GAURANGA-LILA - Lord Caitanya's Navadvipa Pastimes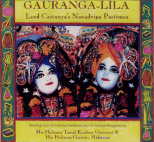 The first five tapes consist of a number of never-before-released, enticing Caitanya-Caritamrita discourses about Lord Caitanya's childhood pastimes, given in Houston, Summer 1989. The second part of this series are intimate classes which were recorded during the Navadvipa-mandala parikrama early 1994, in which His Holiness and his very dear associate His Holiness Giriraja Maharaja take turns reading and explaining the Sri Caitanya-Bhagavata, which is a reservoir of Gauranga-lila. Some stories which are read & relished: 'Nimai's Boyhood Pranks', 'The Marriage of Visvambhara', 'Lord Caitanya Meets Isvara Puri', 'The Passing of Laksmidevi', 'The Glories of Lord Nityananda', 'Lord Caitanya Starts the Sankirtana-Movement', 'The Deliverance of Jagai and Madhai'. Exciting, beautiful stories, sweet Vaisnava-dealings.
1989 & 1994 - 10 TAPES with VINYL ALBUM

Talks Between the Lord and Ramananda Raya
These lectures, given in New Zealand, offer a profound analysis of this very important as well as endearing part of the Caitanya-Caritamrita, in which Lord Caitanya Mahaprabhu Himself questions His confidential associate Ramananda Raya about the ultimate goal of human life. In the series of inquiries and responses which follow, a wealth of spiritual knowledge is revealed and both the Lord and His devotee taste great transcendental bliss.
1991 - 3 TAPES
Jaya Sacinandana!
These potent lectures with their natural flow illuminate the technical explanations of Srila Krishnadasa Kaviraja's Sri Caitanya-Caritamrita. This album combines two seminars, namely "The Causes of Lord Caitanya's Descent", and "The Ecstatic Manifestations of Sri Caitanya Mahaprabhu". The first one was originally released separately. Recorded in a transcendental setting of Sri Mayapura Dhama, right before the 1992 Goura-Purnima festival, it covers the reasons for Lord Caitanya's Appearance as described in the Adi-Lila. The other seminar was recorded in New Zealand. These are unusual lectures, which discuss in detail the bodily transformations of Lord Caitanya when He is feeling separation from Krishna. Most devotees find these parts of the Caitanya-Caritamrita a little difficult to digest, but when heard from the lips of realized souls, these advanced topics miraculously appear within view of even neophyte devotees to appreciate. Very helpful if you want to deepen your understanding of the position and the inner moods of Lord Caitanya Mahaprabhu.
1992 - 9 TAPES with VINYL ALBUM
Lord Caitanya dances at Ratha-yatra
Two beautiful CC classes given in preparation for the Ratha-yatra festival. Indepth explanations of the finer points, like Lord Caitanya's mood of seeing Jagannatha Swami as Vrindavana-Krishna, the loving exchanges They experience during the cart ride, how devotees can develop their eternal relationships during kirtana etc.
1994 - 2 TAPES

Now you can celebrate every festival with Tamal Krishna Goswami! After a period of intensive mining in the archives of the Tape Ministry, here are the fruits for all devotees to relish:
Thirty-two tapes containing forty-one (!) lectures on all the major festivals of the Vaisnava-calendar year.
Follow how His Holiness preaches over the years and all over the world.
Classes go from as early as 1979 up to 1995, from Australia to Zurich, and just about everywhere in between!
Now you can have all this complete in two beautiful vinyl albums with first-class covers.
This is a Milestone, a series which you can listen to for the rest of your life, year after year after year ......
Volume One
Appearance Days of the Lord's Incarnations
Sixteen tapes containing eighteen ecstatic lectures. The Descent of Lord Caitanya discussed in Bhaktivedanta Manor '92, Ramnaumi in Dallas '85 and Chicago '80, Nrsimha-caturdasi in Dallas '92, Gundica-marjana and Ratha-yatra in Dallas '91 and '92, Lord Balarama's Appearance in New Zealand '92 and USA '82, Janmastami in Germany '89, Ekadasi in Houston '93, Radhastami in Australia and Dallas '93, Lord Vamanadeva's Appearance Day in Houston '85, Prayers to Lord Damodara in Dallas '90, Govardhana-puja and the installation of Sri Giriraja in Houston '84 and '90, Story of Lord Varahadeva in Houston '94, ending with a nectarean class in Mayapura '93 on Lord Nityananda's Appearance Day. Guaranteed to evoke strong remembrances of the Lord and His merciful dealings with His devotees.
16 TAPES with VINYL ALBUM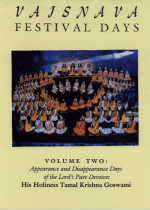 Volume Two
Appearance and Disappearance Days of the Lord's Pure Devotees
A wonderful collection of sixteen tapes containing twenty-three (!) complete lectures glorifying the previous acaryas on the occasion of their Appearance and Disappearance Days. Madhavendra Puri, Raghunatha dasa Gosvami, Srinivasacarya, Ramananda Raya, Srivasa Thakura, Bhaktivinoda Thakura and Gadadhara Pandita, Rupa and Sanatana Gosvamis, Lokanatha Swami, Haridasa Thakura, Gaurakishora dasa Babaji, Gadadhara dasa, Dhananjaya dasa, Bhaktisiddhanta Sarasvati Maharaja, Madhvacarya, everyone is there! And of course our beloved Srila Prabhupada. This series include some very special tapes from the old days, with His Holiness commenting on Srila Prabhupada's arrival prayers in Boston, and proudly recounting the early days of Prabhupada's preaching in America. Two beautiful classes on Prabhupada's Appearance Day given in Mayapura '84 and New Zealand '92, plus two on his Disappearance Day, given in Dallas '79 and '84. So as you see, a lot of Prabhupada-katha! This series will definitely increase your attachment and love for the members of our disciplic succession.
16 TAPES with VINYL ALBUM