Tamal Krishna Goswami Tape Ministry
---
Tape Series
MATCHLESS MEMORIES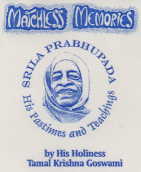 4 new tapes full of Prabhupada Nectar, with background music - in handy vinyl album
His Movement - How it spread under his guidance
His Teachings - What he wants us to do; then and now
His Lila - Nectarean pastimes, stories, jokes etc.
His Unique Position - How he differs from other teachers
Srila Tamal Krishna Goswami: "I cannot find one single quality which most exemplifies Srila Prabhupada within my mind. Prabhupada was unlimitedly kind to give me so much association, and because of that I see him as a whole personality. I think it becomes easier for someone if they had less asociation to select one quality, one issue or one incident. But with myself, there was so much association on such a continuous basis throughout the years, that I just think of Prabhupada as a whole personality. He had many, many moods and they were all very wonderful."
Tape One: The Journey to America - The Early Days - Preaching in Europe
Tape Two: Back to India - Sannyasa - The Radha-Damodara Party
Tape Three: The Final Year
Tape Four: Srila Prabhupada - His Pastimes and Teachings
*** Reviews *** Reviews *** Reviews ***
His Holiness Sacinandana Swami: The tape collection "Matchless Memories" taken from the lectures of His Holiness Tamal Krishna Goswami offers a sweet glance into many aspects of Srila Prabhupada's glorious personality by one of his close servants, which are enlightening, instructive and extremely endearing. Simultaneously, the listener is led back to interesting details of ISKCON's fascinating history - previously not known to many. The tasteful blending in of appropriate bhajans, kirtans and other music makes for a pleasing hearing experience. A wonderful contribution to Srila Prabhupada's Centennial Celebration.
His Holiness Hridayananda dasa Goswami: These tapes are very nice. I am sure that anyone who sincerely listens to them will make nice advancement in Krishna consciousness by hearing from a very faithful and advances servant of Srila Prabhupada.
His Holiness Lokanatha Swami: The devotees are certainly going to relish the nectar.
OVER 100 SETS ALREADY SOLD!
............Did you get yours yet?

Janmastami and Vyasa-puja 1999, Hungary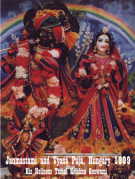 His Holiness spoke Prabhupada Nectar for four hours during the 1999 Srila Prabhupada Vyasa-puja gathering in Hungary. The Hungarian translations are digitally edited out. Highly recommended by Maharaja himself!
Hungary, 1999 - 4 TAPES with VINYL ALBUM